About AzzA's Child Psychology Clinic (ACPC)
AzzA's Child Psychology Clinic (ACPC) is a child psychology and therapy centre, which provides expert advice, comprehensive assessment, intervention and support for children, adolescents, young adults and their families. Azza Brown is the Founder and Principal Psychologist of the team at AzzA's Child Psychology Clinic.
Azza Brown and her team hold extensive experience and knowledge in the assessment, diagnosis and treatment of children and adolescents presenting with a range of difficulties including; developmental, behavioural, learning, emotional and social difficulties. The centre is renowned for providing quality and affordable assessments and evidence-based interventions for children and adolescents and their families, whilst working closely with Paediatricians, GP's, schools and other allied health professionals.
The centre is also recognised for its extensive involvement in the community including preschools, schools and other child and family centres. Please see below for our vision and mission.
Click image below to watch the video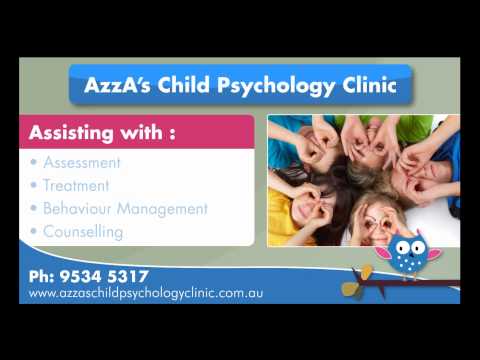 ---
Extensive Support to Parents and Educators

Working closely with referring agents & allied health services

Why choose AzzA's clinic?

Quality & Affordable Assessments

Professional, Experienced & Warm Clinicians
Our Vision & Mission
Our motto is "Working with you, For you and By your side".
Working with you-  AzzA's clinic works with you to achieve your stated objective using the state of the art clinical practice to ensure the greatest likelihood of success......
Working for you-  Our goal is to ensure your advocacy needs are met through the process of continuous engagement and genuine understanding of your needs......
Walking by your side-  Journeys are best met with the assistance of a partner, at Azza's clinic we ensure that each client is assisted through their whole journey.......
Central to our success is the belief that children, young people and their families must be provided with an environment that promotes learning, development, healing and behavioural growth.
In order to achieve our vision we must achieve our mission which is to deliver services:
• Collaboratively and harmoniously to integrate and coordinate all stakeholders' efforts for the sole purpose of achieving client outcomes.
• Professionally and ensure that we possess a high degree of clinical acumen.
• Client-centrically placing our client's needs and outcomes first in all undertakings.
At Azza's clinic, we ensure that every client is provided with the best attention and care. Please contact us to speak to one of our psychologists for further details about our consultation services for children, adolescents, young adults and their families.
---